Alisa Minina defended her thesis "Consumption of Financial Services in Global Mobility ..."
Congratulations to Alisa Minina who defended her thesis "Consumption of Financial Services in Global Mobility: A Cephalopodic Consumption Mode". Below is a summary of the thesis.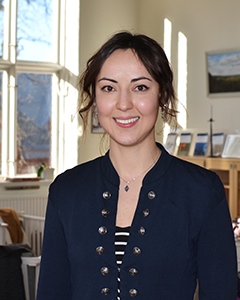 In the interconnected world of today more and more people get on the move. We go abroad for vacations, visits or business trips and we change countries of residence as we pursue new opportunities. Cross-border mobility is becoming part of our life. In recent years consumer researchers have been showing an increasing interest in particularities of consumption in condition of global mobility. Although previous studies have acknowledged the importance of economic capital in enabling global consumer mobility, existing research could be enriched by a deeper understanding of how globally mobile consumers manage their financial consumption across borders.
The aim of this dissertation is to is to contribute to the uncovering of the particularities of consumption of financial services in global mobility by documenting globally mobile consumers' financial consumption patterns, the ways they build and maintain relationships with their financial service providers and the ways in which they navigate cultural norms of service consumption and financial consumption across borders.
The study is based on four research articles that develop an understanding of the dimensions of financial consumption and uncover purchasing, relational and acculturative aspects of consumption of financial services in mobility. The overarching chapter further develops the insights from the articles, bringing forward the concept of the cephalopodic consumption mode – a particular way in which globally mobile consumers organize their financial consumption.
This work contributes to the domain of research on serially relocating consumers by showing how globally mobile professionals engage in cephalopodic consumption mode (CCM), using their economic capital in order to navigate their international movement. The multipresence, multi-acculturation, instrumentality and camouflage of CCM emerge as an answer to challenges of mobility – the need to reacquaint with new countries every time upon relocation, the future need to leave again and the necessity to organize consumption across borders.