Final SU Business Model Cup
The final of the competition SU Business Model Cup was April 25th. Nine finalists presented exciting sustainable business ideas for a jury at Stockholm Central Station. The competition, which is open to all researchers and students at Stockholm University, was conducted for the fourth time.
The jury consisted of six business people including Jan Stålberg founder of EQT and Marita Wengelin, alum from Stockholm University and PR manager at MAX Burgers.

There were five entries that received prize in hard competition. In the category Best Sustainable Business Concept, Enerpoly, a newly formed company that will manufacture and sell a new type of rechargeable batteries won. Behind Enerpoly is Mylad Chamoun, who defended his thesis on February 15 at the Department of Materials and Environmental Chemistry.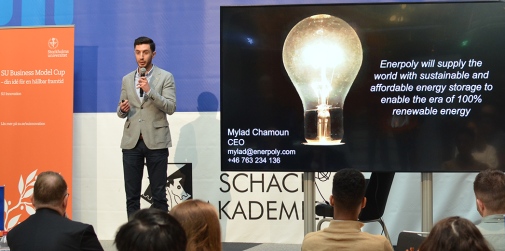 Second place in the category was shared by Ribacci and Safetly. Ribacci is a new clothing brand that will produce organic hemp clothing. The process of producing fabric from hemp is environmentally friendly and the fabric becomes durable. Behind Ribacci are four students from, among others, fashion science at Stockholm University and product and design at KTH.

The idea behind Safetly is an app for the security industry that makes it easier for clients to find the right security guard for assignments. The app is intended as a digital marketplace and can be used by security companies as a contact mediation between customers and security guards.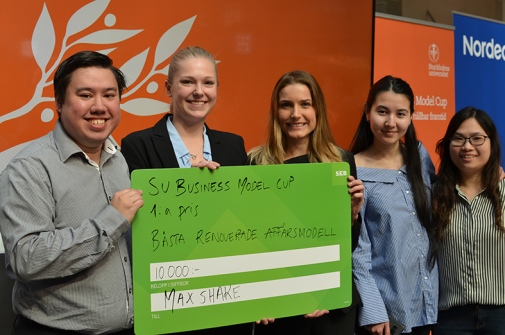 In the category Best renovating business model, a group of six students from Stockholm Business School won the idea of Max shake, a shake made of insects that can be sold by Max Burgers. The shaken is a vegetarian protein-rich alternative and the idea is that the product should be developed together with customers who provide feedback.

In the second place, SAS Climate came up, an idea where SAS has an environmentally friendly customer offering where the customer can choose how they want to climate compensate and where the customer gets different benefits such as discounts on Arlanda Express. Behind the idea are two students who study business economics at Stockholm Business School. They will now meet SAS to present their idea.

All competitor contributions in the SU Business Model Cup shall include a sustainable business model. The competition is conducted every semester by SU Innovation in collaboration with SU Inkubator, Stockholm Business School, and Venture Cup.