Getting emotional about finance
How can we make ordinary people understand the financial information communicated by various social actors? A common perception is that more information can change people's financial behaviour. Charlotta Bay, assistant professor of business administration, has conducted research on this topic for several years. One of her conclusions is that financial information also has to affect people emotionally.
There are increasing demands on our own financial responsibility. We are expected to be well informed about the financial market when we buy a property, borrow money for studies, save for our pensions, invest in funds, etc., but what is actually being done to create financially conscious and responsible citizens? What do society and other stakeholders do to facilitate our ability to interpret and act on financial information?
Charlotta Bay, researcher and teacher at the Stockholm Business School, has conducted three different case studies.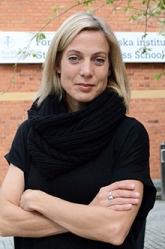 In the first case study, three Swedish authorities go on a school tour to discuss personal finance with upper secondary school students. The second study investigates how the television show "Lyxfällan" [The luxury trap] links finance with overconsumption in a way that is comprehensible to both participants and viewers. In the third study, employees at a telemarketing division of a Swedish pension insurance company are interviewed about the strategies they use when talking about pensions with the people they call.
"My interest has been to investigate, at a micro level, what is actually being said and done when these actors meet their target groups, as well as the arguments and preparations behind these words and actions," says Charlotta Bay.
Need for emotional affect
One of Charlotta's conclusions is that economic understanding is not only in people's minds but also in their bodies, and that financial information must affect people emotionally in order to be understood and acted on. She explains that economic understanding requires translation, that financial information often has to be cleared of numbers and quantities and translated to take other forms that people can relate to and be affected by – forms that do not only include rational, sensible arguments.
"One of the great challenges is to make both the provider and the recipient realise that economic understanding is not only a cognitive, rational process that takes place in people's minds. Just because we inform people about different types of funds and stocks, introduce them to various economic concepts, or teach them how to calculate the interest on their mortgages, does not necessarily mean that they are able to understand the economy and handle their money better."
Change of behaviour
Charlotta argues that the main culprit is the idea that we can change people's financial behaviour mainly by offering more information and enhanced mathematical skills. This idea runs deep, is difficult to change, and still governs many actors' communication of financial issues, she says.
"In order to make people change their financial behaviour, we must first translate the financial issues into something that relates to each individual's reality and concretely show the impact of their financial choices on their daily lives. And not only for the size of their wallet; finances is just as much about emotions, morality, and relationships. In order to make people understand finance, you have to be able to demonstrate what debt means – not only in the form of payment plans, but also how it affects a person's emotional life and personal relationships," says Charlotta.
How does a person feel who is in debt and cannot pay back an sms loan? How is a person's relationship with their best friend affected by a debt? Why do pension envelopes cause discomfort in many people? Appealing to people's heart and gut feelings as much as to their mind creates an economic understanding that may lay the foundation for a change in their financial behaviour.
Currently, Charlotta is working with several researchers at Stockholm University on the pension study "Financial literacy", which mainly focuses on the recipient's perspective. When she interviews customers of banks and insurance companies, she notices that many of them lack a greater perspective.

"The information from the provider focuses on details and different solutions and packages, but the question many people ask themselves is: Will there be any money left for me at all when I get old? Worrying about these larger issues may cause people to not absorb the information," says Charlotta Bay.