Emma Stendahl defended her thesis about headquarters
Congratulations to Emma Stendahl who defended her doctoral thesis "Headquarters' involvement in managing subsidiaries".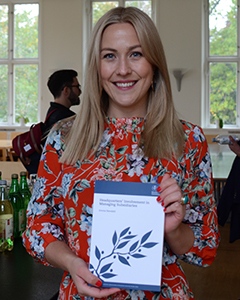 Emma Stendahls thesis aims to advance our knowledge on headquarters' involvement in managing its subsidiaries.
Within contemporary research on the multinational corporation (MNC), the topic of headquarters' involvement has grown considerably in importance. As the central organisational unit in the MNC, headquarters has potential to add value to the firm by performing an administrative and entrepreneurial role. While the administrative role concerns synergetic coordination and control activities, the entrepreneurial role pertains to developing and implementing new innovations such as management innovations at the corporate-wide level.
Existing literature has generated valuable insights into headquarters' administrative and entrepreneurial role and the potential to create value for the MNC. However, more research is needed on how headquarters can advantageously involve itself and integrate subsidiaries to ensure that their activities are aligned with the MNC strategy without impinging upon subsidiaries' autonomy and without incurring their resistance to headquarters' coordination, control and innovation activities.
Case study within the construction industry
In her thesis Emma Stendahl examine coordination and control activities within the administrative role, and within the entrepreneurial role, she examine the process of developing and implementing management innovations and facilitating factors. The thesis draws on a single longitudinal case study of the development and implementation of a new performance management practice by a European MNC within the construction industry.
While this thesis has been carried out as a single case study, the outcome of the thesis is presented in four separate papers, exploring headquarters' involvement in coordination, control and innovation activities.
A collaborative approach
This thesis contributes to the literature on headquarters' involvement in managing subsidiaries by suggesting a collaborative approach to subsidiary engagement and participation that addresses 1) the issue of subsidiary demotivation by feeling degraded to an implementer, 2) the suitability issue by reducing the risk of mismatch between new headquarters integration and innovation activities and subsidiary contexts. Combining headquarters' and subsidiaries' stocks of perspectives and knowledge helps transcend the spatial, cultural, institutional and political boundaries between headquarters and subsidiaries.
Read Emma Stendahls dissertation in full text here: "Headquarters involvement in managing subsidiaries".