Professor Lars Lyberg winner of the 2018 Award for Exceptionally Distinguished Achievment
The 2018 AAPOR, American Association for Public Opinion Research, Award for Exceptionally Distinguished Achievement, was awarded Lars Lyberg for his work within the field of survey research, his work as founding editor of the Journal of Official Statistics (JOS), among many other great achievments.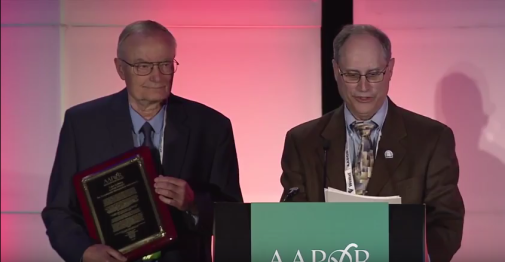 We are happy to announce that our former colleague professor Lars Lyberg has won the prestigious prize 2018 AAPOR Award for Exceptionally Distinguished Achievment.
The citation for the award reads: "The award is given for outstanding contribution to the field of public opinion research including: advances in theory, empirical research and methods; improvements in ethical standards; and promotion of understanding among the public, media and/or policy makers."
See the short film about Lars, the prize ceremony and his inspring speach, here.
Lars Lyberg's research has also been acknowledge with awards before.