Mothering men and their consumption
The aim of this project is to study childcare and its associated consumption among single fathers with shared or sole custody living in the Swedish context. The questions are if and how this care differs in any systematic way from that of women and as well as if and how it differs from the North American context which today dominates consumption research.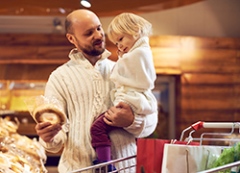 Consumption plays a pivotal role in most of the everyday practices carried out in contemporary society and this, of course, also includes the consumption involved in child care. Although the Swedish state has long propagated for gender equality, women still take the main responsibility for most of the childcare, the household and the consumption associated with it. Fatherhood is, however, in a state of flux and men's activities in the home have increased over the years. Still, many consider that the development is too slow and men's nurturing is a hot political topic. With some interesting exceptions of studies based in a North American context we still know relatively little about men's childcare and associated consumption on an everyday basis – a practice that presumably will have a strong impact on our society in the future and where some of the forerunners can be found among single fathers.
Project time: 2014-2016
Funding: 460.000 SEK, Anna Ahlström and Ellen Terserus Foundation
Photo: iStock
Contact
Susanna Molander